Your question:
Which DatingDirect reviews can I trust?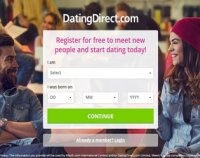 Our answer:
DatingDirect UK reviews should be read cautiously. Reviews of experts comparing dating sites usually don't have personal experience with the site which, however, enables them to focus on the site itself, its prices and service in their review rather than on personal experience. Personal DatingDirect reviews are usually about the users' experience with other users. There are, however, also some reviews about problems of being charged fees unwillingly and not being able to contact DatingDirect UK.
Let's clarify those negative DatingDirect reviews
As soon as you suscribe to any of the DatingDirect UK services, you have to pay. And, as with almost any other provider, this subscription is renewed automatically until you cancel. Users need to read the fine print so they won't forget to cancel their subscription on time and neither won't be surprised when DatingDirect continues charging their bank account. Just don't forget to read the fine print and you'll be well informed! This procedure is annoying for users but legally impeccable.
DatingDirect reviews about the problem of contacting DatingDirect UK
Contacting DatingDirect UK is truly a bit tricky. There's no simple "contact" section on the menu as there should be. Instead, you have to scroll down and go to the highlighted "About DatingDirect.com" section, click on the "Help" button and close the pop-up. You can either call DatingDirect UK (for free from UK landlines) or scroll down all the way and click on the "Didn't find the answer to your question" button. This will lead you directly to the DatingDirect UK contact form. In case you're having difficulties finding their contact information, you can get directly to their contact form here (link: http://www.datingdirect.co.uk/help/contact_ex_ask_v.php) or call them for free under: 0 800 358 0846. YES, contacting DatingDirect UK should be easier and we, too, hope this will change soon!
But other than that, we recommend to register for free, take a look inside DatingDirect and then decide if this dating site is for you or not before starting to pay.
"DatingDirect" and our test result
Similar questions to "Which DatingDirect reviews can I trust?":